The Top 10 NBA Uniforms Of All Time
The NBA is the leading sports league when it comes to men's fashion, with players using games as an opportunity to show off their styles and threads on a nightly basis.
The official uniforms have proven to be fashion statements themselves over the years and, when it comes to fans, aren't only worn to games.
The 10 best in league history are listed below.
10. Washington Bullets (Red, white and blue)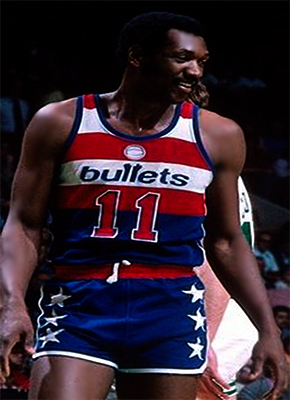 Worn: 1974-87
Star players who rocked it: Elvin Hayes, Wes Unseld, Phil Chenier, Bob Dandridge
The Washington Wizards' jerseys were the thing in the 70s and 80s. Their red, white and blue stripes coupled with the double-L hands reaching for the ball are quite legendary, so much so, the Wizards stuck to it as best they could when redesigning their uniforms a few years back. They couldn't simply bring it back as the NBA doesn't permit teams to reuse old designs for their primary unis.
9. New Jersey Nets (Stars and Stripes)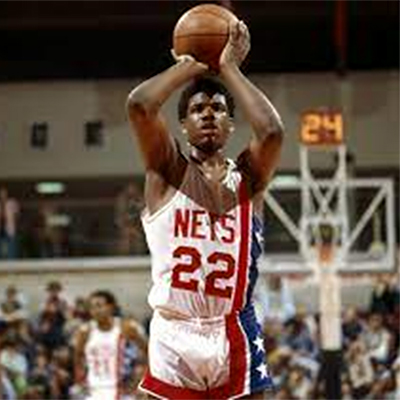 Worn: 1972-81

Star players who rocked it: Julius Erving, John Williamson, Bernard King, Billy Paultz

Julius Erving must have been all it took to make a jersey look great back in the day. While Allen Iverson is credited with revolutionizing NBA fashion, Dr. J was the epitome of swag in his day, wowing crowds with his acrobatics while looking like the coolest player on the court. He wore the Nets' stars and stripes to two ABA championships and the team kept its panache after joining the NBA in 1976.

8. Miami Heat (Vice collection)

Worn: 2017-present

Star players who rocked it: Dwyane Wade, Udonis Haslem, Goran Dragic, Jimmy Butler

The Miami Heat have been able to boast some of the nicer-looking unis in the league over the last several years and their Vice collection puts several neat threads together. The team has released four Vice jerseys since 2017, unveiling versions in black, pink, white and blue.

The concept screams Miami and the collection has brought about some of the trendiest NBA gear in recent memory.

7. Charlotte Hornets (Teal pinstripes)

Worn: 1989-96

Star players who rocked it: Larry Johnson, Alonzo Mourning, Muggsy Bogues, Dell Curry

The Charlotte Hornets have an owner whose brand is the most recognizable in the world but he was dropping buckets on them when they were playing in teal pinstripes in the 80s and 90s. The Hornets haven't seen much success in the NBA since they came around in 1988, with just 10 playoff appearances to their name. The uniform is probably their biggest achievement since.

6. San Francisco Warriors (The City)
Worn: 1966-71

Star players who rocked it: Rick Barry, Al Attles, Nate Thurmond, Jeff Mullins

They go by the Golden State Warriors nowadays but have brought back versions of this iconic jersey in recent years. It goes way back to 1966 but there are fans who will fondly recall memories of Barry and Attles making plays in The City uniforms.

5. Denver Nuggets (Rainbow skyline)

Worn: 1985-93

Star players who rocked it: Alex English, Fat Lever, Michael Adams, Danny Schayes

The Denver Nuggets' high-tempo playing style in the 80s is also fondly remembered by fans. The Nuggets were the fastest team in the NBA back then and their rainbow skyline jerseys made them all the more fun to watch.

4. Orlando Magic (Electric blue)

Worn: 1994-98

Star players who rocked it: Shaquille O'Neal, Anfernee Hardaway, Horace Grant, Nick Anderson

Times were pretty fun for the Magic when they had Shaq and Penny together. Sadly, their run was short-lived.

Their uniforms were full of swag back then too, with the team taking their first alternate electric blue pinstriped jersey and making it their go-to road special.

3. Chicago Bulls (Road red)

Worn: 1985-present

Star players who rocked it: Michael Jordan, Scottie Pippen, Horace Grant, Dennis Rodman, Derrick Rose

The Bulls' road red has been around since the mid-80s and isn't going anywhere anytime soon. After all, the player considered to be the greatest of all time won six championships while wearing it pretty often. It's what he was wearing when he hit "the shot" over Craig Ehlo and he was also wearing it when he scored 63 points against the Boston Celtics.

The Bulls are playing pretty good basketball again, with DeMar DeRozan now their main man, and NBA betting sites have tipped them to win over 42.5 games in the regular season while they're 10/1 to win the Eastern Conference.

2. Boston Celtics (Classic green)

Worn: 1972-2014

Star players who rocked it: Larry Bird, Kevin McHale, Robert Parish, Paul Pierce, Kevin Garnett

Another one that isn't going away, the Celtics classic green originally read "Boston" on the front before getting changed to "Celtics" in 1972. It remained that way until the team went back to "Boston" in 2014.

Since then, the changes have been pretty minimal as the Celtics have been happy to keep the simple design.

1. Los Angeles Lakers (Showtime gold)
Seasons worn: 1978-99

Star players who rocked it: Magic Johnson, Kareem Abdul-Jabbar, James Worthy, Byron Scott

The Los Angeles Lakers' decision to go to Showtime gold - reversing the colors of the number and drop shadow in 1978 - proved a hit. The purple numbers were made to beam off of the gold mesh to make the uniforms as exciting as the players who streaked down the court in them.


Hits: 6027 | Leave a comment