Tips to Choosing Wedding Decor
Your wedding is a time to bring friends and family together to rejoice in your life changes. However, it is also a time to decorate and show off. Marriage ceremonies follow the same basic itinerary, but you can change the atmosphere through your décor. Therefore, it is essential to take your time and use the following tips to create a unique experience for life-long memories.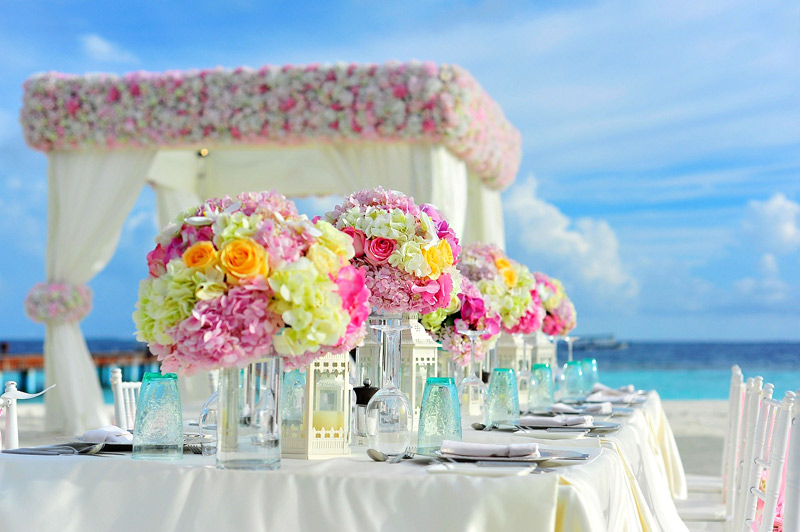 Know Your Style
Straying too far from your personal style may land you with décor you are not happy with. Talk to your family and friends for ideas and opinions, but remember to stay true to yourself. If you are a minimalist or rustic, you will feel uncomfortable with a lot of frills. However, city girls used to a high-maintenance lifestyle may feel out of their element at a reception with clean lines and basic table settings. Finally, make sure your décor matches your theme and dress.
Consider Your Colors
One of the first decisions you will need to make when you become engaged is your color palette. The best plan is to select one or two colors and then one to three accent colors. With an extensive color palette, you risk décor becoming too busy and not blending well. However, if you select one color (such as purple), you can use various shades in the décor. The final decision is between you and your soon-to-be spouse, but make sure you have a decision before shopping or talking to wedding planners.
Know Your Vision
As the decisions become more frequent, it is easy to become overwhelmed. Before decorating your wedding, select three words that describe your vision. Write these down at the top of your wedding plan ideas sheet to refer to them as you choose different aspects of your design. When you stick to a few words that speak your vision, you are more likely to have a polished look at the end.
Check Into Rentals
There are two ways to save money when it comes to weddings. You can either reduce the design items, or you can rent instead of purchase things new. When looking at wedding venues, find out what items they offer free of charge. Complimentary items generally include seating, tables, linens, and dinnerware. However, you can often find specialized seating, props, table settings, and more at rental agencies. This is a cheap way to create a unique look without figuring out what to do with the items after the wedding.
Use a Wedding Planner
While it is a little more expensive, using a wedding planner will help keep your vision and budget in mind when dealing with all the vendors. They also are experienced with making sure table settings will keep your guests entertained while receptions carry on throughout the evening hours. When you have one person coordinating your wedding décor Scotland, you will have more time being excited about your future life than stressing about the small bumps that are sure to appear planning the wedding.


Hits: 2096 | Leave a comment