6 Simple Ways Men Can Look Stunning At Work
When it comes to looking good, it's not just women who are enthusiastic about it but men share the same enthusiasm as well. Men are also conscious of their facial features, their clothes, and their accessories and how they look when they are with their family, friends, co-workers, or with the opposite sex.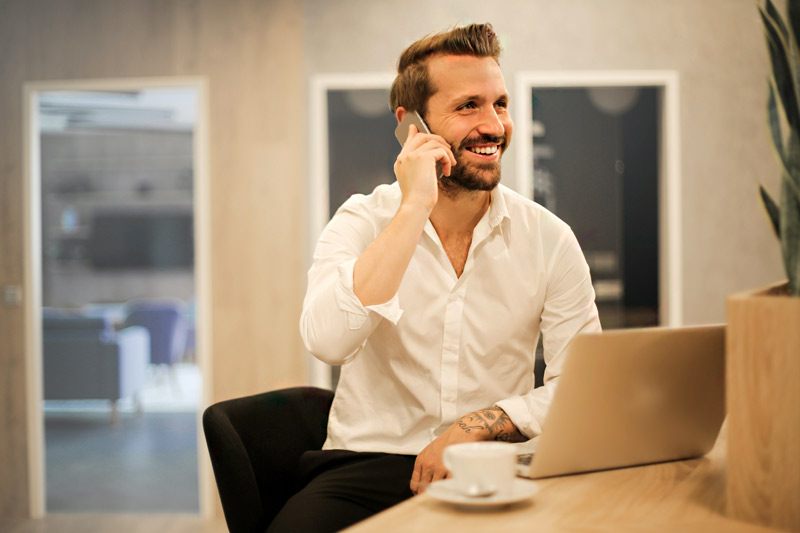 Male young professionals and those working in the corporate setting spend most of their days in the office, and so the need to look good is imperative to make a good impression on your coworkers, clients, and customers. The good thing is looking good doesn't have to be complicated, and we'll share here six simple ways men can look stunning at work.
Dress Stylishly
The proverb "clothes make the man" still holds when it comes to how a man should look. We're taking clothing as one of the top priorities, especially for those working in the corporate world. Looking sharp and stylish at work has a lot to do with what you wear. Company branding is important for any business or company, but it doesn't mean that wearing uniforms or corporate jackets can't get any more fashionable. You can customize your business casual attire by incorporating the company logo in it or simply wear some sleek and stylish clothing underneath your uniform or jacket. If your company isn't that particular about having a strictly uniform look, you can have your uniform customized or accessorized to give yourself a dashing and unique professional look. What you are wearing is what gets the immediate attention of the people around you because your torso covers a large proportion of your body. Thus, be sure to wear something presentable, professional, and stylish at the same time and create the best focal impact.
Pay Attention to Facial Care
Sporting a rugged look at work will not be favorable for you most of the time if you are interacting with clients and customers. Although your co-workers wouldn't mind you sporting a rugged image, you also have to consider that you are responsible for carrying the image of the company you are working for. Make your face look clean and presentable for the different people you deal with. Remove unwanted hair anywhere on your face and get your eyebrows waxed or shaped if they get unruly. Work to get rid of blemishes, spots, and discolorations on your skin to bring out that male charm in you. When you talk or interact with people up close, their attention will shift to your facial features, so work on this area regularly and adopt a regular face care routine.
Work on Your Eyes
Men tend to disregard or simply lack sufficient knowledge on how to take care of their eyes and the areas around the eyes. Women, on the other hand, know the importance of paying attention to the eyes as they can tell so much about a person. Aside from being windows to the soul, the eyes and their surrounding areas can tell about your true age and stress levels. It's not just women who are prone to having crow's feet and baggy eyes, but men also have the same problem. Men should do something to treat baggy eyes with dark circles as they can make you look older. Eyeglasses can give a professional look but be sure to choose the right type of eyeglasses that go well with the shape of your face to give it more contour and detail. Getting enough sleep, avoiding eye strain, and applying skincare products to get rid of dark circles and bags around the eyes are simple ways of making your eyes look attractive and improving your overall look.
Get the Right Haircut
Men are as particular as women when it comes to hair care. Men pay more attention to their haircut than women as it shows more of their best features. A good hair grooming rule to follow for men is to match the shape of your face to the way your hair is trimmed. For example, short to medium-length haircuts go well with a square-shaped face. Talk to your barber about the best type of haircut for your face shape and how your facial hair can also be styled to enhance your facial features. Your barber might suggest a longer front hair to partially conceal a wide or high forehead and have a certain facial hair growth pattern that can enhance the features of your jaws and chin. That said, you can invest some money for regular haircuts and for shaving razors and cream to get a clean-cut and well-shaved look whenever you want.
Pay Attention to Your Teeth
Another overlooked department by most men is dental care, which is another essential factor that can enhance a person's overall look, regardless of gender. A great smile can boost your confidence and attractiveness exponentially, so visit your dentist to have your dental flaws treated and ask for recommendations on how to achieve a winning smile. Some men may secretly have fears about visiting a dentist, but modern medical technology has opened painless and instant options on how you can achieve a bright smile. You'll be thanking your dentist for unlocking a new level of handsomeness due to having a confident and genuine smile.
Look Healthy and Fit
Your overall attractiveness and appeal also largely depends on your health and fitness. Some people are very perceptive and can see beyond the clothes you are wearing. I'm not talking about x-ray vision, but rather how people see your body fits your clothes. You don't have to bulk yourself up just to get that stunning look. All you need is a regular workout to tone your muscles and keep them healthy by eating a balanced and nutritious diet. You look more attractive when you have a lean, chiseled body and not a protruding beer belly underneath your suit. If you need help to get started with looking healthy and fit, you can consider hiring a personal trainer and consulting a nutritionist to get excellent recommendations.

There are many ways that men can improve their look. Although we are focusing here on the work setting, most of the tips given here can also apply to regular and casual settings. Confidence plays a large part in feeling good about yourself and being more attractive. With just a few simple tweaks in your physical features and fashion, you can achieve looking good and feeling good at the same time in the workplace or anywhere else.


Hits: 5020 | Leave a comment