4 Menswear Staples that You Should Have in Your Closet
When it comes to building a wardrobe, your best course of action is to select pieces that can be interchanged with one another for maximum versatility. The ease of mixing and matching the pieces in your wardrobe is so much more convenient than attempting to build one that is based on a number of individual outfits. Instead, a capsule wardrobe gives you the ability to take any few pieces and match them together for a comfortable, timeless look.
If you are wanting to revamp your wardrobe with versatile pieces that can be interchanged with ease, here are four staples that you will want to have in your closet.
1. Chinos
When it comes to building a capsule wardrobe, trousers are the simplest way to get things going. This is because the right trousers can provide the base for any outfit that you want to put together. For instance, you would be hard pressed to find a top, whether a t-shirt or button-down, that doesn't go well with the right pair of blue jeans. Similarly, it would help if you looked to have at least one pair of comfortable chinos for men in your closet.
2. White Button-Down Shirts
Some of the best versatile pieces that you can have in your wardrobe are white button-down shirts. You will use these for work, pairing them with slacks, and you'll also wear them to meals out with friends along with a structured pair of dark jeans. While button-downs are classic pieces that you will use again and again. Feel free to mix things up with fabrics and textures if you are looking to keep your look fresh, but you will be hard-pressed to beat that clean, crisp look.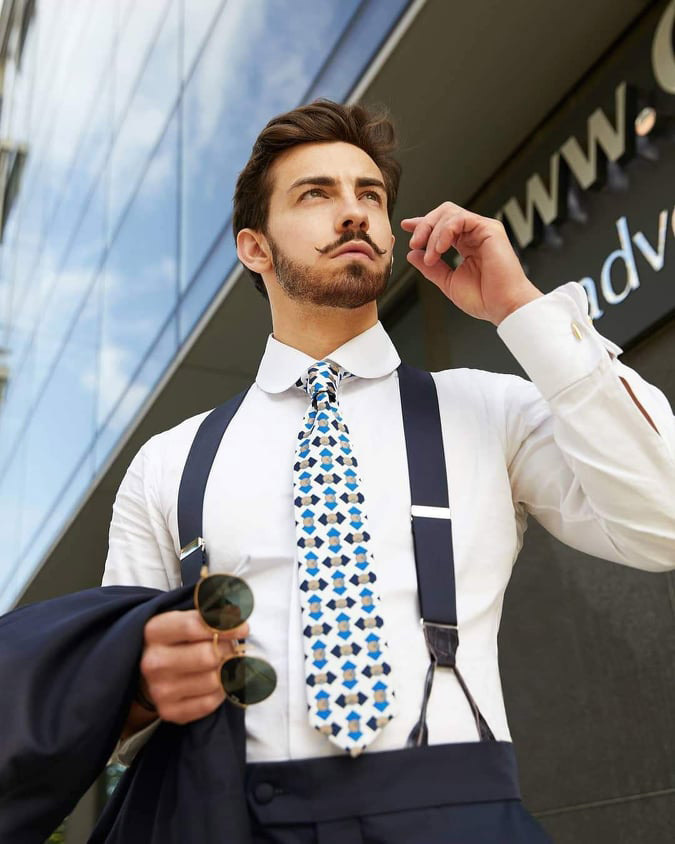 Photo: Bulammas MTM Fashion
3. A Tailored Suit
Even if your job isn't one that requires you to wear a suit on a day to day basis, there are going to be occasions where you will need to wear one. You don't want to be without a tailored, well-fitted suit when the occasion arises. There is no need to fill your wardrobe with a variety of colours and patterns if you will have no need for multiple suits. However, one or two grey or blue suits will be sufficient for any wardrobe.
4. Simple Sneakers
When it comes to footwear, the most essential thing is comfort. This is especially true for the shoes that you will turn to day in and day out. However, you also want to make sure that your go-to shoes are ones that are versatile enough to go with the bulk of your casual pieces. A pair of simple sneakers, preferably white, can contribute to a classic and effortless look that will serve you well for a variety of occasions. Whether you are just running errands out and about for the day or meeting up with friends, classic white sneakers can be the perfect finishing touch for any ensemble that you decide to put together.


Hits: 2408 | Leave a comment